A Father's Delight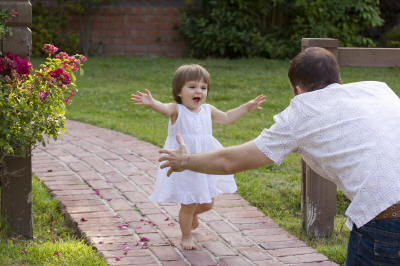 I am the proud father of four boys. Four rambunctious, playful, loving, and at times, very stubborn boys.  I delight in my sons. I love them, despite the fact that at times they can be hard-headed and down right rebellious in doing what Ive asked them to do. They are not perfect. In fact, there has not been one day in their lives that any of them have obeyed their mother and I completely and followed all the rules of the Parish household.  More than likely, they've never made it through a full hour without doing something they know they shouldnt be doing. Such is the life of a parent raising children under seven years old.
And even though my kids fall short of the rules I set for them constantly, they are never fearful to come to me as their father. Quite the opposite, they run to me! Here is an example of what Im getting at from my own life. I was at the office recently and decided to call my wife Lacy to see how her day was going. "Great!" She said. But there was a frustration in her response that led me to believe otherwise. Who says men cant read minds.
Upon pressing her further, she told me that the boys had been at each other all day, arguing and fussing over toys. At the end of the day, I drove home expecting to walk into Wrestlemania. But as soon as I opened the door, I heard the boys scream, "Daddy!!!"
They all ran to me begging to be picked up, loved on, and played with. They know that they are disobedient at times. So why did they run to me instead of avoiding me, the house rule maker, knowing that they at times break my rules? They could run to me with joy for one simple reason….they know that their father loves them. They know I love them despite the fact that they arent perfect. But it goes deeper than love. They know that not only do I love them, but I delight in them! They know that their father honestly delights in them!
When you mention prayer in most church settings, you get alot of people saying that they believe we should pray, but if you were to examine many a Christian's personal prayer lives, it would be greatly lacking.  And the reason many of us have a hard time with prayer is because we have a hard time convincing ourselves that God likes us. We have no problem believing he loves us, but our minds are immediately drawn to an area of our lives that we know is not pleasing to God, so we just dont see how God could like us.
More than this, we dont think God delights in us.
Think of it this way. If you have ever disappointed a friend or close family member, the initial reaction is to avoid them. Why? Because you know that you have fallen short of what you promised to do, and therefore you are ashamed. If they are at a certain restaurant, you go to another one. If you spot them in a crowded room, you avoid making eye contact and get out of that room ASAP! Its not that you dont love them, but that you are afraid that they will be disappointed in you, therefore you avoid them.
We do the same thing with God. This is a major underlying reason as to why we don't pray like we should. We know that God knows where we fall short. And in knowing this, at times we feel we must clean ourselves up before can run to our Heavenly Father. We dont believe that God delights in us, but rather that he is disappointed in us. The only problem with this line of thinking is the Bible.
If we are truly students of God's word, how can we buy into such a myth! Lets examine some things to debunk this Satanic lie. First of all, He saved you!!!! I believe to fully grasp God's delight in you, you must understand how salvation works. If you think that you did something to "get" saved, this easily leads you into thinking that God doesnt delight in you!
If you did something to save yourself like saying a prayer or walking down an aisle, then you are claiming that you in part saved yourself and God didnt really rescue you from sin, but you helped save yourself. When the scriptures emphatically teach, if you are truly saved, Christ did that, not you! You and I had absolutely NOTHING to do with our salvation. Ive said many times, if you are truly saved and you walked an aisle or prayed with the preacher, you were saved before you left your seat. Because it was the prompting of the Holy Spirit that got you up out of that seat!
I cringe every time I hear a Christian tell me that they "accepted Jesus" or they "decided to follow Jesus." We did nothing! Christ gets all the credit for our salvation! The Bible describes our sinful state as being dead.
"As for you, you were dead in your transgressions and sins…" Ephesians 2:1.
Dead things can't chose life….they're dead.
Just as Jesus raised Himself from death to life, so is it the same with the regenerating work of Christ in raising a man's soul from being dead in his sins to new life in Christ.  Just as Christ called Lazarus to raise from the dead, so Jesus calls His elect to new life. I once heard a preacher say that if Jesus hadnt called Lazarus by name before commanding him to "come forth", then every person who had ever died would have risen from the grave!
Jesus didnt have to save us. If you are saved, He willingly chose to recessitate you from the dead. Because he delights in you. He doesnt delight in some future version of you ten years from now when you have it more together. Jesus delights in you right now.
"For he chose us in him before the creation of the world." Ephesians 1:4.

As a Christian, Jesus had already chosen you before the world was set in motion. He was fully aware of what a mess we all would be. He was fully aware of each and every one of our down falls. Yet in love, He predetermined that He would delight in His adopted children, regardless of our shortcomings.
"Come to me, all you who are weary and burdened, and I will give you rest." Matthew 11:28.
What an uncommon invitation this is from our Lord Jesus Christ. Our society tells us that we need to have it all together before we can be accepted. Yet Jesus says for those who are weary and burdened to come! He doesnt say, "Get your life together first and then come! Christ invites not the perfect, but the ones who dont have it together. Its as if Jesus is saying, "Are you a complete mess? Then COME HERE to me!!" 
"Are you burdened with sin in your life…..COME!"
"Are you weary from guilt over your shortcomings…..COME!"
"Are you ashamed because you dont pray like you should…..COME!"
There is a parable Jesus told in the Gospel of Luke about a widow who was persistent. And Jesus told this parable for a specific reason.
"Then Jesus told his disciples a parable to show them that they should always pray and not give up. He said: "In a certain town there was a judge who neither feared God nor cared what people thought. And there was a widow in that town who kept coming to him with the plea, 'Grant me justice against my adversary.'
"For some time he refused. But finally he said to himself, 'Even though I don't fear God or care what people think,  yet because this widow keeps bothering me, I will see that she gets justice, so that she won't eventually come and attack me!'"

And the Lord said, "Listen to what the unjust judge says. And will not God bring about justice for his chosen ones, who cry out to him day and night? Will he keep putting them off? I tell you, he will see that they get justice, and quickly. However, when the Son of Man comes, will he find faith on the earth?" Luke 18:1-8.
Notice the reasons at the start of the parable that Christ told this parable. He told this parable so that His disciples would know to always pray, and never give up. It's important to note that a widow in this time had practically no rights. Once the husband was dead, she had no one to take care of her, and women were not hired looked upon to hold positions. If she had no family members to look after her, there was a good chance that the widow would die.
As she persistently kept asking this evil judge for justice regarding her situation, he finally gave her the justice she wanted. He didnt have to give her anything. More than likely because he was an evil man, he didnt care if she lived or died. The evil judge simply wanted to stop her requests to him so that she would leave him alone! I love verse seven…..
"And will not God bring about justice for his chosen ones, who cry out to him day and night? Will he keep putting them off? I tell you, he will see that they get justice, and quickly." Luke 18:7.
Simply put, if an evil man will give justice to those who cry out to him, do you not think that our righteous God who loves and delights in us will do the same?
Consider this verse in Isaiah…..
"I have posted watchmen on your walls, Jerusalem; they will never be silent day or night. You who call on the Lord, give yourselves no rest, and give him no rest till he establishes Jerusalem and makes her the praise of the earth." Isaiah 62:6-7.
These watchmen mentioned in the verse were men of God. Prayer warriors. And God commanded them to not be silent, giving the Lord no rest until He answered their request to make Jerusalem a praise upon the earth.
Now this is an invitation given by our Heavenly Father that no earthly father would dare give. When my kids keep asking me for something over and over, I eventually tell them to stop asking or it might be an early bed time!
But God says the opposite to His children.
"BOTHER ME!!!"
"PESTER ME!!!"
"GIVE ME NO REST!!!!"
"DON'T STOP ASKING ME UNTIL I ANSWER YOU!!!!" This is what Christ is asking us to do!
But what about those times when we pray for good things, such as the healing of a family member or the salvation of an individual and our prayers go unanswered? The hard truth is that we are but mere human beings and far to ignorant to understand the righteous will of God. Is the Lord completely sovereign, meaning that He is in total control of everything? Absolutely! But His ways are not our ways, and His plans are not ours. A child wars against his parent when he is not allowed to eat junk food like he wants. In his ignorance, the child doesnt see the harm in it, and sees his parents refusal to let him enjoy junk food as them being mean. He doesnt see the will of his parents, that he not get cavities or spoil his supper.
In the same way, we do not understand our Heavenly Fathers will. The scriptures say that we are but a vapor, here for a second, in the span of eternity. How could we possibly understand God. So when prayers are not answered, its not that God doesnt hear or even that He is not answering them. But God may be answering that prayer in a way contrary to how we thought it would work out.
When it comes to our prayer life, it should be a joy to run to God, just as my children run to me. They know and understand that I knew that they were going to be messy at times, even before they were born. But we chose to have them anyway, because even before my kids were born, Lacy and I delighted in them. Your Heavenly Father delights in you today. Regardless of how close you are to him or how far you have strayed from him. He saved you, and chose you to be His before the foundation of the world. He revels in you. And in knowing this, it should be our delight to run to Him!